10 ReLacto Signature Dishes For Your Recovery & Lactation – Part 1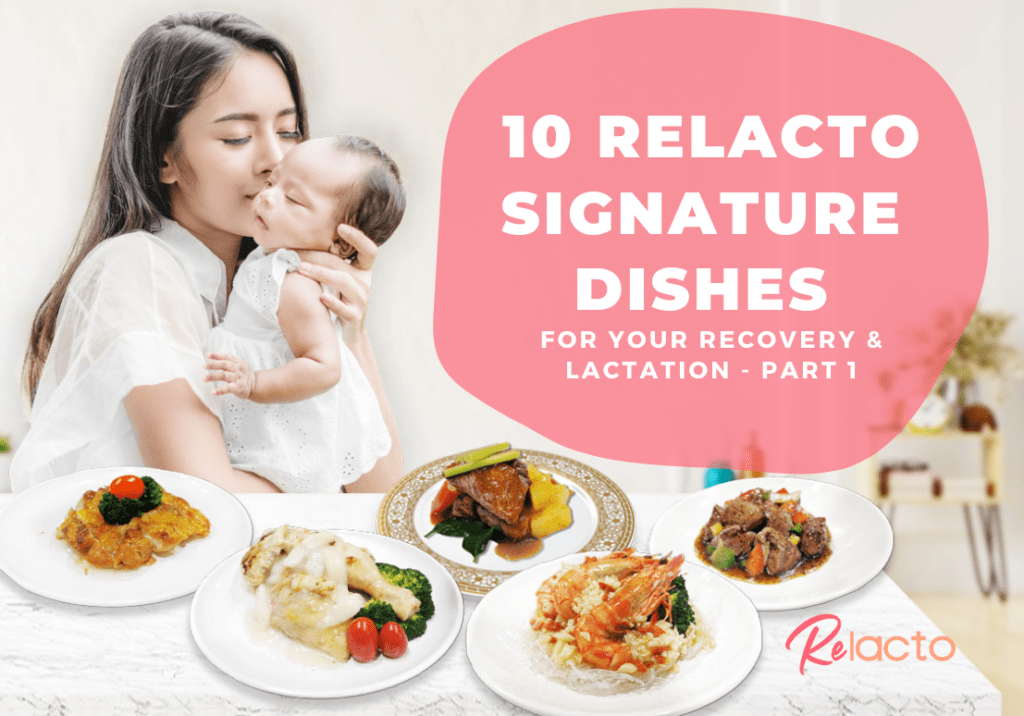 Having a lactation-friendly meal on top of taking care of your child can be a significant challenge to mothers who live a busy lifestyle like you. Be it a new mom or an experienced one, getting breastfeeding-friendly meals can be difficult as it takes a considerable amount of time and effort to prepare them. 
In this digital age, time is of the essence and we understand that it might be overwhelming for you to juggle between your child, career, housework and your own wellbeing as well.
Understanding your needs, ReLacto offers a wide range of nutritious, dietitian-guided nourishment and lactation meals to help ease your breastfeeding experience and speed up your recovery.
Let's take a look at ReLacto's top chef's recommendations among all the delicious meals we have for you!
1. Steamed Prawns with Garlic Vermicelli & Broccoli

Bask your taste buds in these juicy and succulent steamed prawns complemented by vermicelli, broccoli, and garlic to satisfy your cravings! Broccoli is high in vitamin C, which helps with improving your collagen formation to promote wound healing around the genital and caesarean area after childbirth.
Furthermore, prawns contain vitamin B12 and vitamin E. Vitamin B complex helps with your newborn's healthy brain development and good immune system, while Vitamin E helps reduce tissue damage from the natural free radical formation in your body.
This dish is one of the healthy recipes for breastfeeding moms as it features garlic. Garlic is a lactation-friendly ingredient which helps in giving a pleasant taste to your milk. Consuming garlic would also help in easing the introduction of breast-milk to your baby and encourages your baby to stay latched on longer! What better way to do so than to pamper yourself with this meal?
2. Impossible Meat Lemak Rendang, Coconut Flakes
Juicy, tasty and evergreen. From children to those in their golden years, rendang has always been a mainstay when it comes to festive dishes. With ReLacto, every day is festive as we bring you this healthy yet scrumptious meal! But there's a little twist!
Instead of the usual meat, our rendang is made of plant-based meat substitutes called the Impossible Meat. They are mainly made of soybeans, but they are made to taste like meat and even deliver similar nutrients!
Our Impossible Meat Lemak Rendang with Coconut Flakes are filled to the brim when it comes to nutrients such as protein, vitamin B1, vitamin B12, folate and iron.
Folate is an important nutrient for both you and the baby as it encourages protection from neural tube defects such as spina bifida and other life-threatening conditions. Also, the protein in this meal makes it a good diet plan for breastfeeding mothers to lose weight and achieve recovery! Now that's a treat!
3. Black Pepper Wagyu Beef Cube 

Cooked to perfection by our culinary team and served with love to the comfort of your home, this aromatic wagyu beef slathered with our homemade black pepper sauce makes for a mouth-watering delicacy!
This meal contains iron and Vitamin B12, which helps you with wound healing, providing more oxygen in your body, and promoting your baby's brain health through breast milk too.
Moreover, the red capsicum and green capsicum used in this dish are high in Vitamin C. Vitamin C is great for your postpartum recovery as it improves your collagen formation. This is important because it promotes wound healing around the genital and caesarean area after labour. 
4. Yuzu Honey Chicken

After a long day of chores and daily routines, nothing would rejuvenate your senses more than a warm plate of Yuzu Honey Chicken! Spoil yourself with the oriental taste of East Asia, with our chicken that is paired with refreshing flavours of yuzu for a richer taste, allowing you to have a pleasant and enjoyable meal time with your family.
This lovely dish from us is made of yuzu, broccoli and chicken, which each of them contains different nutrients to help you with your recovery and lactation.
In particular, yuzu and broccoli are both high in vitamin C. Aside from helping you to speed up your recovery, having food that is high in vitamin C can improve the concentration of vitamin C in your breast milk, which can help reduce your newborn's risk of developing allergies.
Meanwhile, chicken is rich in protein to speed up your healing, and it contains vitamin B6 to help with your breastfed baby's brain development and immune system too!
5. Soursop Marinated Roasted Spring Chicken

Last but not least, our last entry on this list is the savoury and fragrant Soursop Marinated Roasted Spring Chicken. Marinated with soursop, the roasted chicken in this dish comes with a unique and refreshing fruity taste.
Thoughtfully curated with broccoli, soursop, chicken and cherry tomatoes, this dish contains vitamin C, vitamin B1, and vitamin B6 to benefit both you and your little one! In particular, the vitamin B6 in this meal could help enhance your newborn's brain development and immune system through your breast milk. Meanwhile, the vitamin B1 from the chicken also helps to keep you energized to support your nerve, muscle, and heart function.
You May Also Read this : What is ReLacto All About?
In a nutshell, these refreshing meals would help in easing your breastfeeding issues and speed up your postpartum recovery. But wait, there's more! If our dishes tickle your fancy, stay tuned to part 2 of our list to discover more delicious dishes from us!