Dietitian Shares: Breastfeeding? Here's Why You Should Eat Fish Every Week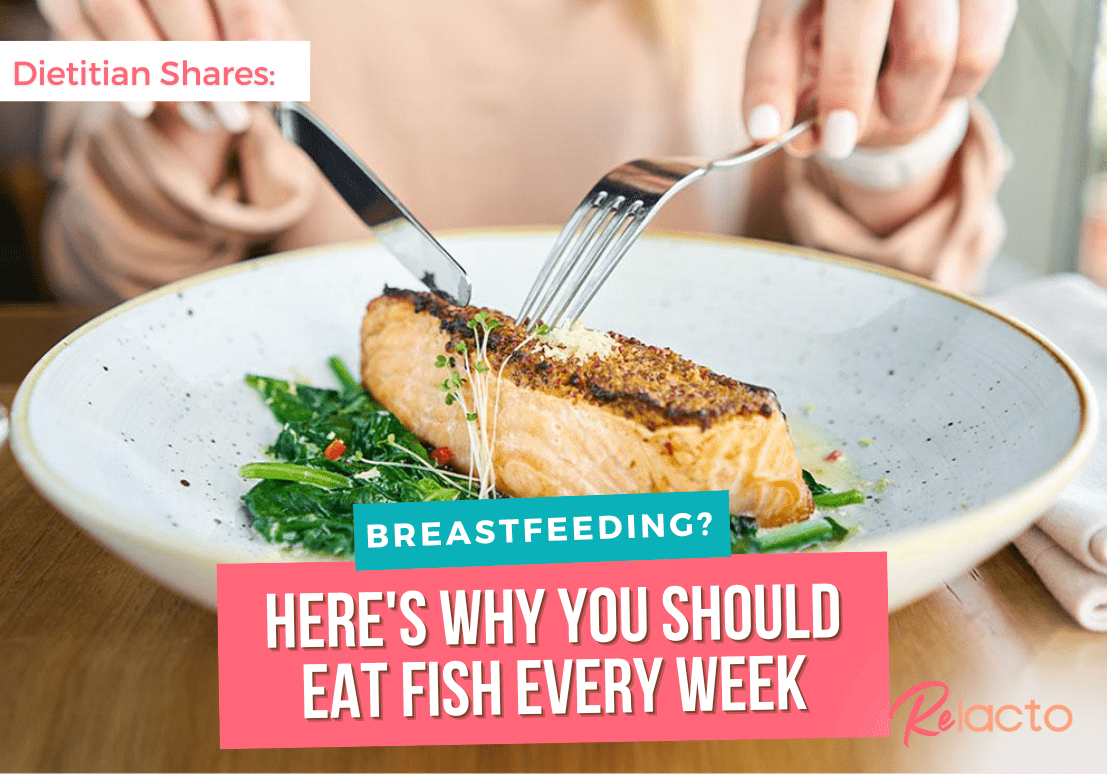 Fish is such a great option of protein. Oily fish is commonly found to not only be a good source of Omega 3-DHA but also vitamin D like Salmon and Seabass! Did you know that inadequate intake of Omega 3-DHA would translate to lower levels of Omega 3-DHA in the breast milk? We are recommended to have at least 300mg of Omega 3-DHA rich food to increase breast milk Omega 3-DHA content in breast milk adequately which is equivalent to oily fish twice to thrice per week! What is the rave about Omega 3-DHA? Here are some facts and benefits of having fish in your diet weekly. 
Brain development
Omega 3-DHA is only found in marine sources. It is a more potent form than the Omega 3 from plant origin such as flaxseeds, chia seeds, and walnuts. Omega 3-DHA form helps to support brain development which is very important for babies. Did you know that Omega 3-DHA content in breast milk is dependent on maternal intake? That means that if mothers are not having enough intake of Omega 3-DHA, there would be less content of this nutrient in the breast milk. 
Reduce risk of postpartum depression
Low omega 3-DHA intakes are associated with higher prevalence of postpartum depression in mothers. The theory is that as depression is a form of inflammation in the brain, the anti-inflammatory effects of Omega 3-DHA helps to reduce this inflammation, thus subsequently reducing depression. 
Bacterial and viral infections
There is growing evidence on how polyunsaturated fats like Omega 3- DHA  to be beneficial for gut health as it is. They play a key role in supporting our immune system by limiting excess inflammation. Omega 3 enriched diets help to promote the growth of beneficial bacteria which would protect against pathogenic bacteria, thereby enhancing gut immunity. The intake of 500mg/day of Omega 3 by adults help to reduce infection caused by E.Coli, S.Aureus, P aeruginosa and S, pneumoniae. 
Safe food sources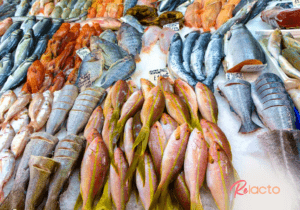 One of the biggest concerns regarding the consumption of fish is the concentration of methylmercury in the protein. For breastfeeding mummies, exposure to methylmercury in large amounts can affect the brain and nervous system development of their growing babies. It is imperative to know what types of fish can be safely consumed or avoided as much as possible. So, what are the fishes that are high in DHA yet low in methylmercury content? The table below provides a quick summary of some examples of fishes that can be found locally in Singapore and is best suited for mummies practicing confinement.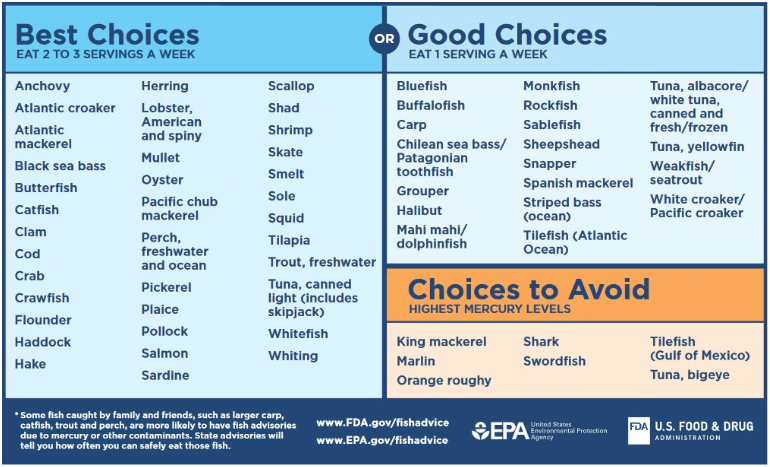 Media Source: FDA
Conclusion
All in all, Fish is undeniably good for you and the baby. So, include fish in your diet at least twice a week! If it's overwhelming for you to plan your meals to ensure that you take fish 2 to 3 times a week even after confinement, there is always external help available nowadays. These days, there are menus which provide food to support you and your baby where fish is served at least twice per week. Many of these menu also helps to are designed to support you during breastfeeding in hopes of increasing breast milk food. They try to provide lactation food in Singapore such as fenugreek, fennel, ginger, garlic and green papaya which are traditionally known to support breastfeeding mothers.