Healthy & Tasty Recipes for Breastfeeding Mothers to Support Milk Supply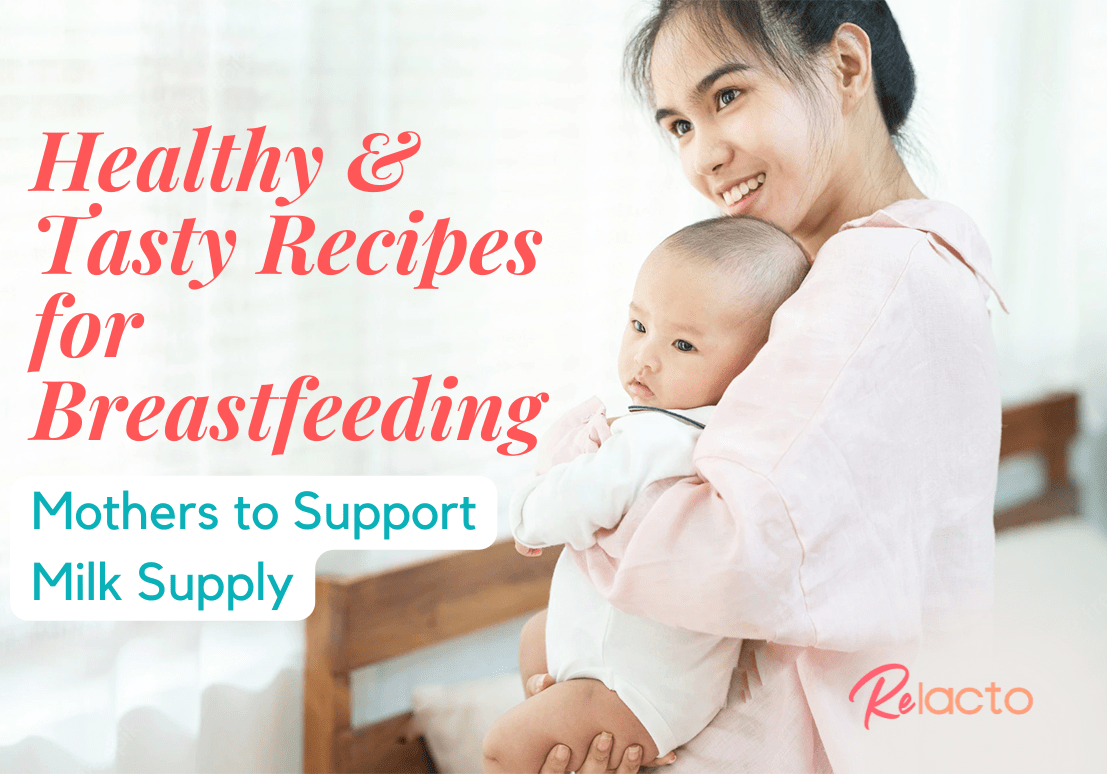 Breastfeeding, meats, fish, protein, folate, carbohydrates, vitamins, minerals, calcium, magnesium. Reading all of that enough to give you a headache yet? Or, at the very least, bring back nightmares of JC chemistry and biology classes?
Well, don't worry, this article isn't going to be about biology or chemistry per se, but it will be about nutrition and tasty recipes that we will be rounding up for you to try out at home!
So, without further ado, let's go further and get on with healthy and tasty recipes for breastfeeding mothers to increase breast milk.
Steamed Prawns with Garlic Vermicelli & Broccoli
Satisfy your demands with these juicy and delicious steamed prawns enhanced with vermicelli, broccoli, and garlic! Broccoli is rich in vitamin C, which aids in collagen synthesis and wound healing around the vaginal and caesarean areas following labour.
Prawns also include vitamin B12 and vitamin E. Vitamin B complex promotes healthy brain development and a strong immune system in your infant, while Vitamin E protects tissue from free radical production in your body.
Because it contains garlic, this meal is supports nursing mothers. Garlic is a lactation-friendly ingredient that contributes to the nice taste of your milk. Garlic consumption eases the entrance of breast milk to your baby and stimulates your infant to latch on for longer! What better way to do so than with this delectable meal?
Recipe
Right, that's all nice and well, but how do you actually cook it? Simply because not everyone has access to a professional burner stove nor a professional chef at home, we'll be looking at the simplified home version recipe in today's article.
Step 1
Prepare the ingredients. Blanch and wash the vermicelli. Then immerse for a few seconds in cold water before removing and draining. Scrub the prawns, remove the heads, open the rear to take out the shrimp line, remove the shrimp skin, keep the shrimp tail, and open the middle of the shrimp. The tail goes through the aperture. The shrimp tail must be totally maintained. Take a ray of vermicelli. Each prawn is wrapped with vermicelli.
Step 2
This step is fairly simple. Are you ready for it? Just peel, wash, and chop some garlic. It is Garlic Vermicelli, after all.
Step 3
Heat some oil in a large saucepan. Add the majority of the minced garlic. Fry until the garlic is fragrant. When you take it out of the saucepan, leave a little bit of the garlic behind.
Step 4
Now, in that pan, stir in a pinch of salt, cooking wine, soy sauce, oyster sauce, and sliced pepper. Then toss in the rest of the garlic that you removed earlier.
Step 5
Pour the soup into the platter beside the prawn vermicelli and the fried minced garlic.
Step 6
Fill the steamer halfway with water, add the prepared garlic vermicelli shrimp, and steam for about 10 minutes on high heat.
Step 7
When the steamed garlic vermicelli prawns are done, wash and cut a few garlic seedlings to sprinkle on top as a garnish.
The steamed prawns with garlic vermicelli are so tasty and refreshing that there is no soup left on the table. 
If you are concerned that the prawns may be mishandled, remove the shrimp line first and then open the rear. 
Pick out the shrimp line with a toothpick in the second segment of the shrimp. Keep an eye on the heat while steaming the shrimp. 
When the water is boiling, add the shrimp and heat it. The shrimp shrinks swiftly as a result of the considerable heat. The good side of this is that the flesh is tighter, and the water within is tightly sealed, so the shrimp tastes smooth and soft.
Black Pepper Wagyu Beef Cube 
This fragrant wagyu beef smeared with our handmade black pepper sauce is a mouth-watering delicacy, cooked to perfection by our culinary staff and served with affection to the comfort of your home!
This meal provides iron and Vitamin B12, which aids in wound healing, increases oxygen levels in your body, and promotes your baby's brain health through breast milk.
Furthermore, the red and green capsicums used in this meal are high in Vitamin C. Vitamin C is beneficial to postpartum healing because it promotes collagen synthesis. This is significant because it enhances wound healing in the vaginal and caesarean areas following labour.
Recipe
As usual, because not everyone has access to a professional burner stove nor a professional chef at home, we'll be looking at the simplified home version recipe that you all can try at…well…home.
Step 1
To prepare the black pepper sauce, heat the wok and add half of the cooking oil and butter until melted.
Step 2
In a butter/oil combination, fry smashed garlic, purple onion, chopped chilli pepper, and water.
Step 3
Stir in the sugar, ground pepper, Maggi sauce, and tomato sauce for 2-3 minutes. Set aside. Pour into a small basin.
Step 4
Allow the wok to cool slightly before cleaning.
Step 5
In a clean, dry wok, heat the remaining cooking oil until it reaches 150 degrees.
Step 6
Stir in the diced wagyu until it is about 70% done.
Step 7
Mix in the sauce mixture that we made earlier.
Step 8
Sprinkle with ground pepper and mint leaves before serving.
For a family dinner, this recipe is versatile and inviting.
Closing Words
That's two of our easy to do at home healthy lactation meals that you can try out for yourself. If you wanna try out our version of these foods to improve lactation, then swing on over to our homepage today and browse through our lactation diet plan menu to see what other mouth-watering dishes we have available!