Over 100 lactation-friendly and healing dishes
served with unique lactation drinks every week.
Our Signatures
Highlights On Our Menu
" Your Hassle-Free Daily Meals for Lactation and Nourishment by Dietician "
Our Packaging
Warmer In Your Tummy, Kinder To The Earth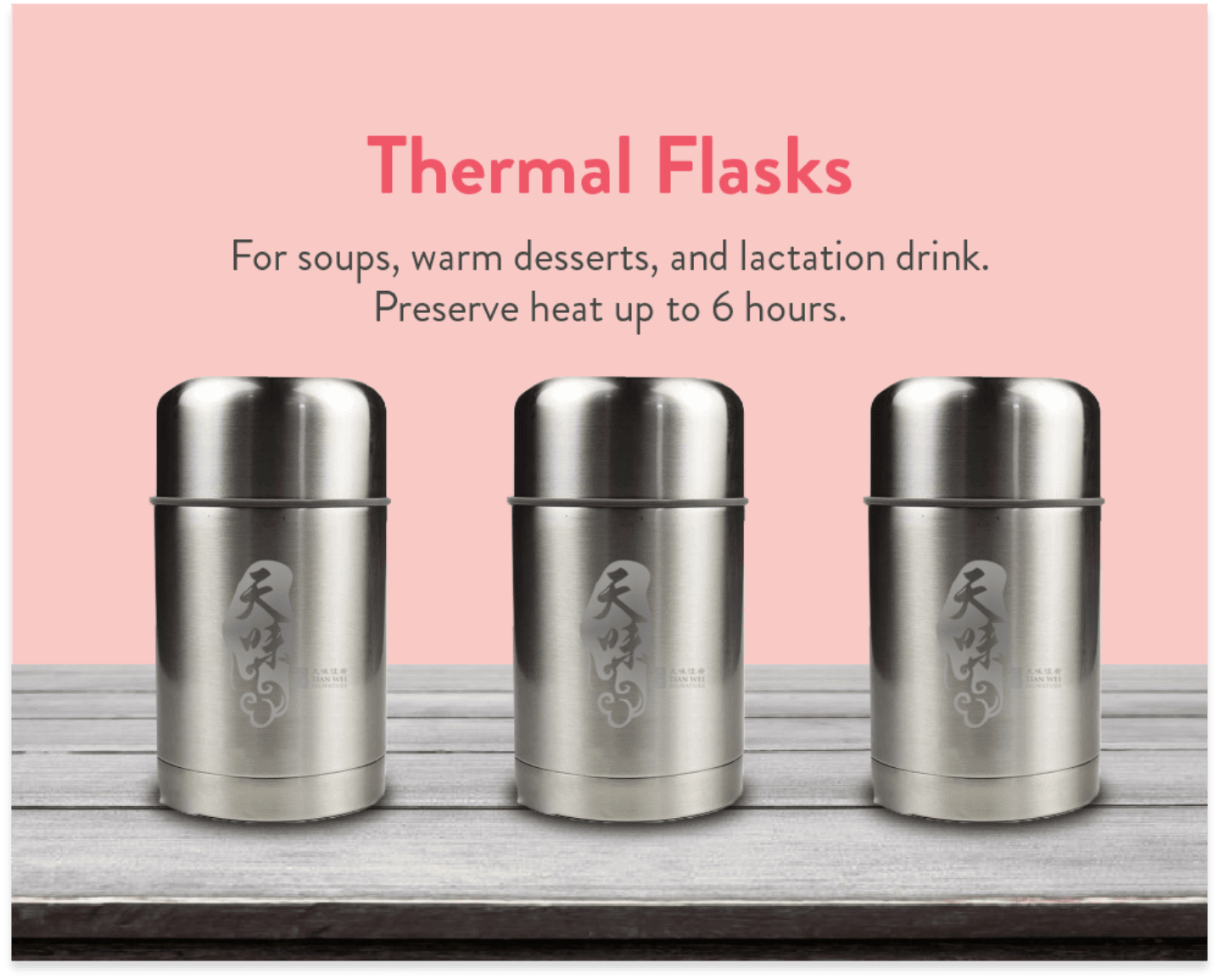 At ReLacto, we place a great emphasis on diet after childbirth or post-delivery diet. Guided by the expertise of our head chef, Chef Eugene and our in-house dietitian, Eunice Tan, we are committed to providing the best foods for new mothers and lactation meals for our beloved clients. After all, a well-thought meal plan for breastfeeding mom would be key to your newborn's growth and muscle development.
You might have noticed it from our name, ReLacto's main objective lies in prioritization of foods that increase lactation. Therefore, it is important that the post delivery food for mother is well planned and prepared. It was with this in mind that ReLacto was formed by Tian Wei in order to further assist mommies who wish for a healthy meal option nearing or after the end of their postpartum recovery journey. Plus, the variety and choices of meals on ReLacto's menu is wider and less strict compared to that of Tian Wei Signature. This would allow you to snack healthily while adhering to your breastfeeding diet plan menu!
Now that we have addressed the differences between ReLacto and Tian Wei Signature, you might be very curious on what we have in store. Therefore, it is only feasible that your very next question would be…
While ReLacto might still be a relatively new presence in this industry, we do have what it takes to cater to our beloved clients. One of our niches lies in our capability to provide a wide array of lactation boosting foods designed by our very own Award-Winning Chef and Relacto's In-House Dietitian. Plus, the after delivery food diet comes with various healing benefits and they are essential to increase breastmilk supply. But that is not all! ReLacto is also adept to changes and needs of their clients as well. This is evident in our menu as we provide a combination of traditional Chinese dishes and fusion modern cuisines which could also serve as breast milk increase food. The dishes are MSG-free, promotes a baby healthy growth and comes with a lactation-friendly beverage with every set.
Garlic
Ginger
Fenugreek
Fennel
Brewer's yeast
Blessed thistle
Alfalfa
Spirulina
Thanks to the digital age, breastfeeding mommies are having a field day due to the abundance in lactating food to increase breast milk. The presence of the internet and the ever-developing technology has also enabled you to acquire foods that increase lactation and foods to boost milk supply more easily. Plus, the blissful progress of technology meant that your doctor is only one call or one text away from a consultation! A privilege that was inaccessible to your predecessors.
Consulting your doctor or dietitian would allow you to gain significant wisdom regarding healthy meals for breastfeeding moms. This is useful as they would be able to share their thoughts and advice on which lactation food Singapore moms would find most convenient and healthy for daily consumption. As a result, creating a diet plan for feeding mother is no longer a hassle!
As we previously mentioned, getting food is no longer an issue due to the abundance of food delivery services that exist in this modern era. With one swipe or five short minutes on your smart-phone, you would be able to get food delivered to your doorstep as well. As an adept food provider, ReLacto have also joined the fray in catering to our consumers as well. You can now have your lactation friendly food delivered through ReLacto nutrition food delivery service.
Now that we have mentioned about our food delivery service, it is also worth noting that ReLacto lactation-friendly foods are packaged and sealed properly. When looking for foods, you should be well informed that your meals are handled by professionals who regularly undergo sanitization and are properly trained to handle meals. You also need to keep an eye on a few instances when choosing food, these two instances should give you an idea on how you should choose your meals based on the packaging.
Keep your soups and drinks warm for up to 6 hours
Preserve the freshness of your meals with double-wall vacuum insulation
Safe for you and your baby as it is BPA-free and made of food-grade, stainless steel material
Help makes the Earth a better place for your kids
Less plastic clutter for your kitchen and the environment
Safe and free from harmful chemicals