Dietitian Shares: 3 Seafoods Rich in Omega 3 with Low Mercury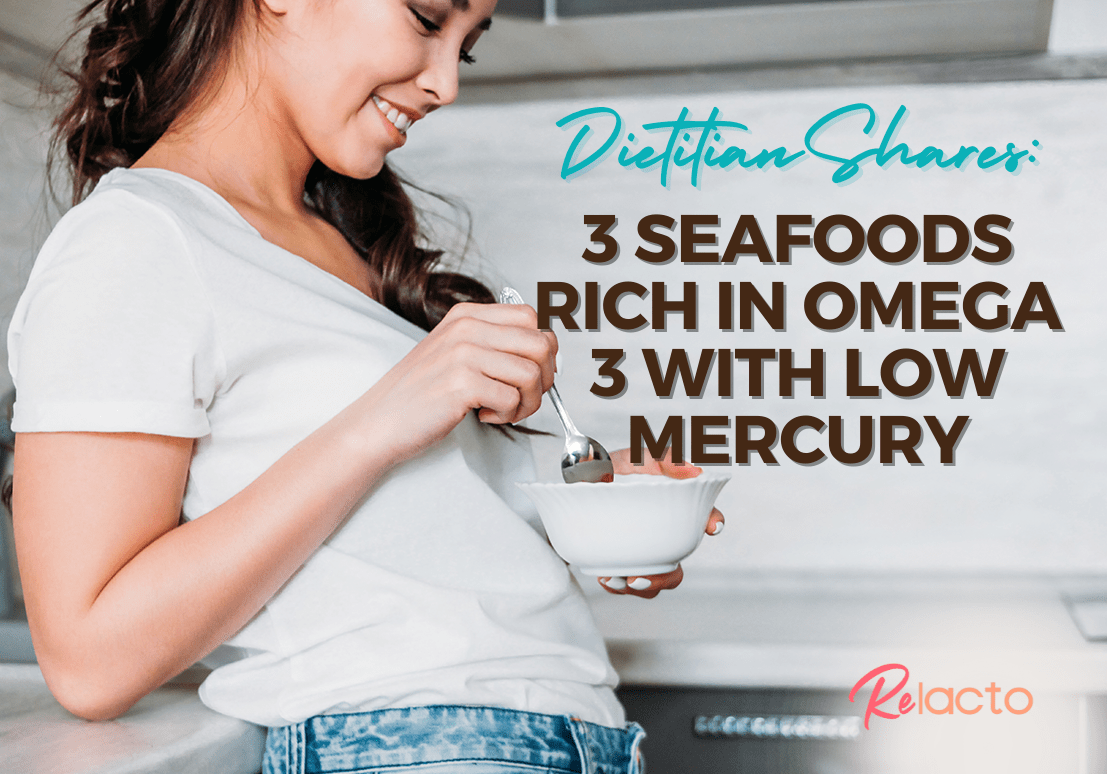 By now, we all know that Omega 3 rich foods are important for women during preconception, prenatal and postnatal. Regardless of whether a mother chooses to breastfeed or not, increased intake of Omega 3 intake is found to be beneficial in women especially during this phase of life. 
During preconception, Omega 3, particularly docosahexaenoic acid, DHA helps to build good quality ovum in female and sperms in Male. This is particularly helpful among couples who are going through Invitro Fertilization, IVF and would like to produce good quality sperms and ovum for the procedure. 
During prenatal, Omega 3-DHA intakes in mummies help to support brain development and vision acuity of the fetus. Besides that, adequate intakes in mothers also reduce risk of premature birth. Thus it is important to have such foods as part of a breastfeeding mum meal plan.
During postnatal, sufficient intakes of Omega 3-DHA supports mothers by reducing the risk of postpartum depression and anxiety. As breastmilk's omega 3-DHA content is dependent on maternal intakes, it is important to have adequate intake of such foods increase breast milk content of Omega 3-DHA. It is recommended to have 2 to 3 servings of such foods per week to ensure adequate intake. This is because babies' growth, brain and vision development still depends on Omega3-DHA which is provided through breast milk now. 
Here are some options of the best foods for lactation period that are rich in Omega 3 that you can enjoy while still low in mercury:
Salmon 
Salmon is probably one of the most well-known Omega 3-DHA rich foods to have as part of a healthy diet. It is also a good source of protein, Vitamin B12 and Vitamin D too, all of which are important while breastfeeding. Vitamin B12 is important in building and maintaining healthy red blood cells and nerve cells whereas Vitamin D helps to support bone health in both mummies and babies. Recent studies have shown that Vitamin D also helps to support the immune system. Interestingly, a local study in Singapore found that up to 50% of pregnant mummies during the 2nd trimester are insufficient in Vitamin D levels despite living in a tropical country where Sun exposure is available all year round! So that's why it's important to have fish like Salmon often in our diet too.  Thus in a menu like Relacto which provides a menu to support mummies who are breastfeeding provides salmon dishes like:
Pan seared Salmon Fillet, Orange Mustard

Salmon with beetroot

Bakes Fillet Salmon with Ginger Mirin Sauce
Scallop
Scallop is another good source of Omega 3-DHA. In Chinese cuisines, it's commonly served steamed with some light garnishes and soy sauce. It is enjoyed by many and when cooked well, the texture is fine, soft and very light tasting. It easily a crowd favourite. Besides that, scallops are also a good source of Iodine. Iodine is important in both pregnancy and breastfeeding as it functions to regulate thyroid hormone. During early childhood, iodine plays a role in brain development too. Since iodine content in breastmilk is dependent on maternal intake, it's important for mummies to have adequate Iodine from foods. Iodine can be easily obtained from a wide variety of food sources like fish, seafood, iodized salt and seaweed! In Relacto, we provide scallop dishes that supports mummies during postnatal and breastfeeding such as:
Stir Fried Broccoli with Scallop

Xiao Bai Cai with Scallop Gravy

Egg tofu with Scallop and Spring Onion
Prawn 
Prawns can be cooked in a variety of ways. Deep fried, stir fried, steamed and boiling in soups are all equally delicious! Prawns are a good source of protein too! During lactation after childbirth, it is important for mummies to obtain sufficient protein. This is because there will be some blood loss, wounds for recovery, uterus and skin that needs to contract and heal. On top of that, a mother needs to produce breast milk which provides some protein to the nursing baby. All these processes increase protein requirements in a mother during this period of time. So instead of your usual fish, chicken or pork, having some seafood like prawn would be a great change as part of a healthy diet! That's why, to spice up Relacto menu to be different from your usual confinement meals that are often times more restrictive, Relacto serves dishes like:
Steamed Prawn with Garlic Vermicelli and Broccoli

Lemongrass Seafood Soup

Seafood  Stir Fried Brown Rice Bee Hoon