What is ReLacto All About?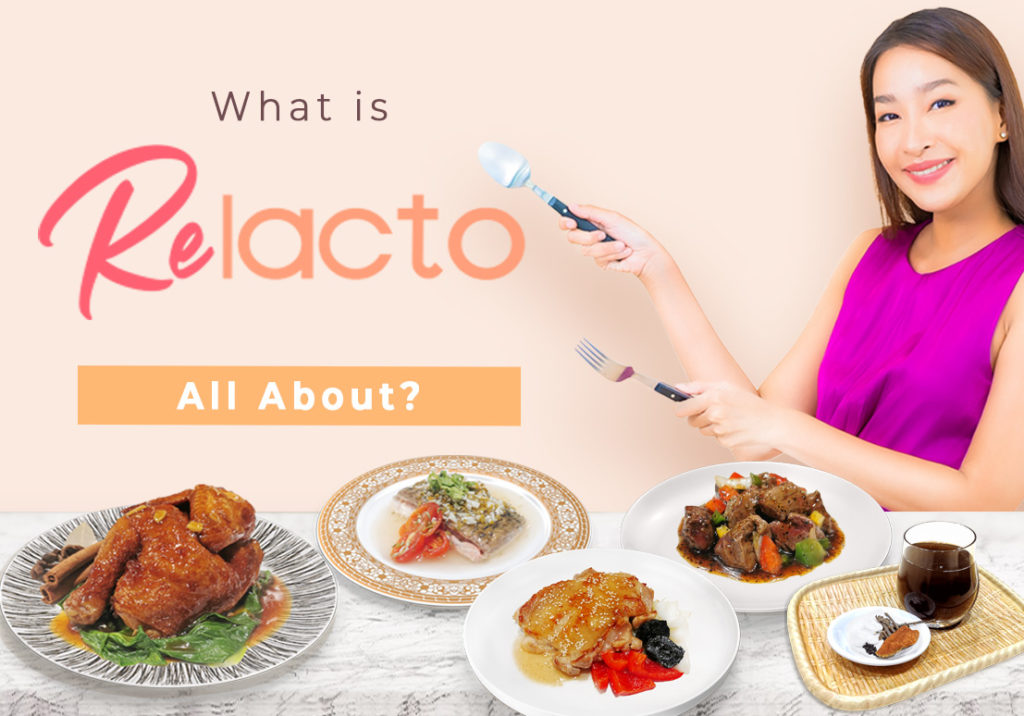 Wish to continue breastfeeding after the first critical postpartum month, but not sure if you can maintain a good supply of milk? Unsure of what to eat during breastfeeding? Or lacking the time to make well-balanced, nutritious meals? Most mommies might face certain issues with lactation and proper diet during the whole breastfeeding period, and these are just some of them.
Thus, this resulted in the mommies stopping breastfeeding earlier than they intended to. Unfortunately, getting lactation-friendly meals with the right nutrition can be quite challenging. The good news is we've got you covered!
At ReLacto, we strive to bring you delicious nourishments for your lactation and recovery.
The word ReLacto itself stems from 'Re'covery and 'Lacto'genic, indicating our main focus on these two aspects of your motherhood journey.
ReLacto's dishes are packed with lactation-boosting ingredients and each meal set is accompanied by a lactation drink to ease your burden in improving your breastfeeding experience. Pique your interest? Then you might fancy what you are about to read!
Why Choose Us?
How can our meals help ease breastfeeding? For a start, our lactation friendly meals and drinks help you promote your baby growth. Plus, our dietitian-guided nourishments would be a great addition to your postpartum recovery routine as they help in boosting your postpartum recovery. On top of that, our lactation-friendly dishes and drinks are also great for promoting your baby's growth and enhances your lactation capabilities as well. Besides, the packaging method for our products is environmentally friendly as ReLacto strives for a more sustainable environment through our thermal flasks and biodegradable packaging.
You May Also Read this: 10 ReLacto Signature Dishes For Your Recovery & Lactation – Part 2
How We Help You with Lactation & Recovery
Our dishes contain carefully selected ingredients which can help you boost your milk supply and promote your baby's growth.
Firstly, ginger. At ReLacto, we include ginger in our meals to help you with improving blood flow and boosts your milk supply through the increased blood supply.
Second, garlic. Your meals at ReLacto contain garlic as it would give a pleasant flavour to your milk, improves breast milk odour, eases the introduction of breast milk to baby, and encourages baby to stay latched on for longer.
Thirdly, ReLacto's dishes also contains papaya to promote milk production and stimulate smooth muscles that work to express your breast milk.
Fourthly, fennel. They are great for reducing the inhibitory effects of other hormones (dopamine) on breast milk production. Besides, it also ensures a smooth milk flow for your comfort.
Fifthly, Fenugreek helps in promoting milk production and last but not least, Moringa Olifeira. Moringa Olifeira is beneficial for you as it boosts milk secretion and stimulates milk production hormones.
Recovery wise, our dishes contain nutrients that can help to enhance your postpartum recovery.
In particular, our dishes contain nutrients such as protein, vitamin A, vitamin B complex, vitamin C, vitamin E and iron to boost your recovery.
Protein is great for you as it provides building blocks to repair, encourage wound healing and develop antibodies that are part of setting up a good immune system.
Vitamin A, on the other hand, improves your collagen formation to promote wound healing around the genital and caesarean area after labour.
Besides, the vitamin B complex promotes better growth and development for your newborn's brain and improves their immune system as well.
What Do We Serve?
Recovering is not just about what's visible to the eyes but also your insides as well. Our meals would provide ample nutrients to replenish blood and recover lost energy.
Essentially, healing begins from the inside and our meals do just exactly that! We have a few recommended dishes lined up perfectly for your needs. For example, Black Pepper Wagyu Beef Cube, Steamed Prawns with Garlic Vermicelli and Broccoli, Soursop Marinated Roasted Spring Chicken, Fish Fillet with Celery Sauce, and Moroccan Chicken Stew.
We have the Black Pepper Wagyu Beef Cube that is rich in iron, protein, vitamin B complex, and vitamin C for beef-loving mommies!
That is not all, we also serve Steamed Prawns with Garlic Vermicelli and Broccoli that is rich in protein, vitamin C and vitamin E for a better reduction in tissue damage from the free radical formation.
Last but not the end of our entry, the Soursop Marinated Roasted Spring Chicken which is rich in proteins and vitamin B complex! Pretty handy isn't it?
How Our Product is Packaged
At ReLacto, we strive for nothing but the best for our beloved clients. Therefore, our products have been sealed and packaged so that it would be sustainable to the environment.
Plus, our thermal flasks keep food warm and fresh for longer hours! Your soups and red dates tea will be served in our double wall-vacuum insulation thermal flasks that keep your soups and drinks warm for up to six hours.
Furthermore, our thermal flask is also safe to use for feeding as it is BPA-free and made of food-grade, stainless steel materials.
Meanwhile, the rest of the dishes in your meal will be served in biodegradable packaging. As part of our effort in including sustainability in our service, these biodegradable packagings are more environmentally-friendly and also helps to reduce plastic clutter for your kitchen and the Earth.
Meet Our Chef and Dietitian
With your needs and wellbeing in mind, our meals were specially crafted by our award-winning head-chef and in-house dietitian for a nourishing and delicious dining experience.
Our head chef, Eugene started his professional career in the culinary industry by honing his skills in international cuisine. His passion for international cuisine eventually inspired him to create interesting fusion and traditional confinement dishes at Tian Wei Signature.
With his experience in curating breastfeeding-friendly and nutritious confinement meals, Chef Eugene aspires to keep supporting mothers along their breastfeeding journey with the nourishment and lactation menu at ReLacto.
Meanwhile, our dietitian, Eunice Tan graduated with a Bachelor of Science (Hons) in Dietetics with Nutrition from International Medical University, Malaysia. She is a Full Dietitian Member of Singapore Nutrition and Dietetics Association, a Full Dietitian Member of Malaysian Dietitian Association, and also the in-house dietitian for Tian Wei Signature.
With her expertise in nutrition and diet planning, Eunice helps to ensure that every meal you have at ReLacto is packed with the key nutrients you need for recovery and lactation.

In conclusion, Let ReLacto help to ease your breastfeeding and postpartum recovery journey with our delicious nourishment and lactation meals and drinks. Can't wait to get your hassle-free, dietitian-guided daily meals for lactation and nourishment? Call us at +65 6727 5599 now!